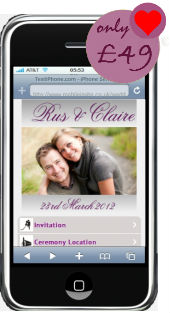 Combine the beauty of technology with traditional wedding invitations to provide you with a tech savvy, cost effective solution for sending wedding invitations. On the left we have an example of what a mobile wedding invitation will look like on a mobile phone.
Please note: This is not a mobile optimised site and certain features such as click to call/click text are only available on a mobile device.

To see a working example of a mobile wedding invitation please scan the QR code below with your smartphone or go to www.mobileinvite.co.uk/wedding
To scan the code you will need to download a FREE app from apple iTunes or from the android market place. We recommend iNigma.