At Mobile Wedding Invitation we make personalised wedding invitations with a difference. They are created to be viewed on your mobile phone which means your guests are almost guaranteed to have all the information they need on the day. It's time the traditional wedding invitation had a makeover. Our mobile invites can do so much more than traditional printed ones.
How about, instead of a static photo of the bride and groom to be, we embed a personal video made by you, adding that "personal touch" to your invitation. A personal video will ensure your guests always remember this special invitation. Sending mobile wedding invitations can save you a lot of time and money as well….
Creating your mobile wedding invitation is simple. Just choose your colour scheme, upload your photo or provide a Youtube link to your video (we suggest making this link private), choose your wording and we do the rest!
When your mobile wedding invitation is ready we'll send you a link and even give you a FREE QR code that when scanned with your mobile phone camera links directly to your invitation – no fiddling around entering web links.All you'll need to do is send the link via text message and when your guests click on the link they will be taken immediately to your mobile wedding invitation.
We can even send them out for you at a time and date specified by you. All your guests receive your message at the same time. There is a 10 pence per text cost for this service. For example: 50 Guests will cost you £5.00 if we send out the invites
The folk behind the idea

Here is the real Rus and Claire on our wedding day on 23rd March 2002!!
Believe it or not, only 10 years ago and there was not a digital camera in sight, these photos were scanned in!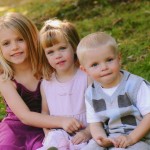 Fast forward a decade and this year we celebrated our 10th Wedding Anniversary – 1 flat, 2 houses and 3 children later!!!